Business
How to Generate Traffic: Free and Paid Online Promotion Mediums
Nowadays, entrepreneurs and business owners dream about trending online and reaching out to millions of web users but making it happen is nothing less than a challenge. The very first issue that a business owner comes across is exactly where to start from.
This post will tell you exactly what to do for instant online visibility, relevant online traffic, authority resources and greater visitors.
For the sake of simplicity, let's segregate the ones that will cost some amount of money from the ones that are nearly free or come at very little cost.
Ones that will cost you money
Run an AdWords campaign
AdWords is a very sophisticated advertising product from Google, using which you can create banner & text ads displayed whenever relevant searches are made.
The best thing about them is that you are only charged when someone clicks on the link or banner. If you are small business or store owner willing to target the searchers in your area, AdWords Express has to be the perfect choice.
Keywords selection, Analytics understanding, budget determination, campaign tracking and management are some of the most demanding aspects of running an AdWords campaign.

Yahoo Advertising Solutions
Google might be the search engine giant but this doesn't mean Yahoo! doesn't matter. Yahoo has a vast range of advertising solutions on offer for marketers. To be precise, its display solutions are rather impressive if you have a good advertising budget.
Special take on display solutions – Google doesn't believe in earning ad-money from its search based homepage but this doesn't stop Yahoo! from doing the same. The popular search platform offer advertisements on its homepage visited by millions of people on daily basis. For every country, Yahoo! maintains separate domain to share news and local updates. So, if you want to target a specific region, it is no problem.
If you are ready to spend the money, then, Yahoo! homepage ad can offer a vast coverage. The best thing about the ad is that you don't have to compete with other similar ads for attention (like in AdWords).
Here is a link for more details about Yahoo! advertisement offerings:
Get featured on websites relevant to your industry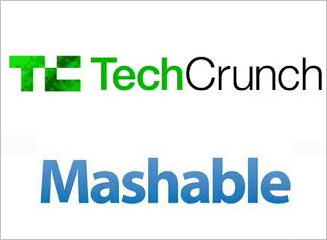 Getting featured is one of the simplest ways to gain access to a ready-made readership. It introduces you to web users who are engaged and would be interested to listen what you have to say. In you have technology focused product or idea, then, getting featured on websites like TechCrunch and Mashable can give you extraordinary exposure.
The tough part is to identify websites with your target audience because obviously it wouldn't make sense to get your meat shop featured in The Verge unless it has something to do with a sophisticated meat-cutting tool.
Chances are that you will be charged a decent amount of money for an opportunity to interact with their audience.
Advertise through blogs
In case your business or website doesn't have anything unique that could be marketed in a featured post, then, the safest option would be to get in touch and discuss advertising. Featured post will remain visible for a limited period of time (till new posts push it underneath) but advertisement will keep on communicating for as long as you wish.
If you own a web hosting company, then, it would be best to put your ads on blogs/websites that share information about technology, web service providers, and online entrepreneurs.
In case you are florist looking for new clients, then, putting up ads on wedding and catering blogs can help greatly. The idea is to get your ad on the right places.
How to do it – The first task obviously is to find authority websites or blogs that host third party advertisements. In case you are familiar with one or two, use the following tool to find more at similarsitesearch
Initial discussion & study will bring you across associated cost, ad positioning, and other details.
Run a Twitter campaign
Trends, hashtags and 140 characters best define the Twitter platform but the popular micro blogging service is obviously more than that. Here are some facts that will really make you consider Twitter for promoting your business or brand;
It has more than 200 million active users.
All those people make around 400 million tweets every day.
And the number is growing with each passing day.
Twitter is home to one of the most engaged online community and its reach is actually monstrous. Here are some impressive things about it;
You can target local, national or global audience
You can target people as per their interests
You can promote your profile, posts or both.
Twitter has a solution for every business need but firstly it is important that you understand all the important details about the platform.